Excellence in Eyewear starts with a well educated & experienced professional Optician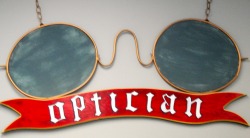 At Joseph & Thomas Opticians, an incredible selection of frames can be found within our optical showroom. Choosing the perfect pair of glasses is not an easy task! With so many frames to choose from, how do you decide? Our talented opticians will provide personalized fitting techniques to ensure that each customer finds the perfect pair of glasses. Whether you are looking for the sophisticated look or the trendy look, we have the selection to satisfy your taste! You'll want to consider personal style, the shape of your face, and the proportion of your facial features, skin tone and hair color. Our experience can help you make a choice that's right for you. But, just for ideas, take a look at a sampling of the latest frame styles and collections. Don't see exactly what you're looking for? Stop by the store or contact us for personal assistance. A selection of frames in all price ranges is updated regularly so there is always something new to try
Can I bring in my current frame to have new lenses put in ?

We must determine that your frame is strong enough to withstand the lab process and will last as long as your new lenses. If this is the case, we are happy to fit your old frame with new lenses. Our on-site lab allows you to wear your existing glasses until the new lenses are ready. It only takes a short time to install the new lenses in your frame.
---
Some of the Brands We Carry