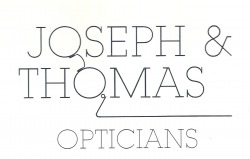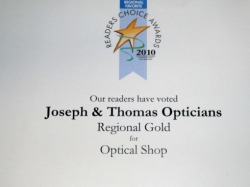 About Us

Joseph & Thomas opened the doors of our original shop at 208 Main Street in downtown Milford in 1983. In 10 years we out grew the downtown location and relocated to the Milford Square Plaza on Route 140 also known as South Main Street.

We, Tom, Joe and Kristina are all Massachusetts Licensed Opticians, American Board Certified, and Fellows of the National Academy of Opticians and Members of the Opticians Association of Massachusetts.

" Trusted on Sight " for twenty-seven years, we offer a vast selection of fashion friendly quality frames fitted with today's' latest lens designs customized to meet your wants and needs. ------ No gimmicks.

Joseph and Thomas is independently owned, and operated by Tom, Joe, and Kristina. We are all local folks; many of you know us as your neighbors.

Come visit us!


---
The Joseph & Thomas Advantage

Our knowledge and experience enable us to satisfy the most complex prescriptions, creating a comfortable and fashionable pair of eyeglasses for any need. We are always focused on the latest technological advances in optics, and can access almost any lens made in the world today.
We have earned the trust and respect of many area ophthalmologists and optometrists by providing their patients with accurate, quality eyewear and personalized service.
As Independent opticians, we feel it is incumbent upon us to practice and maintain the highest levels of our profession. That is why we are Licensed by the Commonwealth, Certified by the American Board of Opticianry, Fellows of the National Academy of Opticianry, and are continually educating and re-educating ourselves in the latest technology and products the industry has to offer.
Our in-house finishing lab is furnished with the most technologically advanced equipment. Fabricating eyewear on premises enables us to have greater control and oversight over the finishing process, as well as, guarantees high-quality workmanship and customer satisfaction.
---
Why You Should Choose Us

Our goal at Joseph & Thomas is to give to you best eyewear possible and want you to experience what makes us the best in the area! Good value means quality care, excellent service, and fair pricing. We have been involved in our community for over 28 years and we plan to be the source for expert, convenient, full service eyewear for decades to come.
Don't be fooled by the national chains advertising discount eye care and low cost glasses. We know that when it comes to your eyes it's not about volume and never ending "sales". Please do some research so you will see that our pricing is more than competitive than any "chain" and we stand behind all of our work and offer warranties on everything we sell.
---
* Certifications & Affiliations *